Welcome to Lexan Systems L.L.C.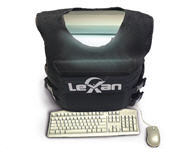 At Lexan Systems we minimize risk and exposure for corporate networks by protecting information and data assets.
With over ten years experience in the business of network and data security, we're proud to say:
All of our products are tested and tried, so we know they work!
We navigate the technology curve like Tony Hawk works a half pipe
Best of Breed solutions are all we offer, that's it, nothing else. And helping you find the one that fits … well, that's what we do best.
There will be no up-sell, or even worse, a wrong sell (YIKES!). Our commitment is to sell you the product (and ONLY the product) that offers you the best solution. And if we can't find it, we'll build it. Believe us when we say "We've got your back!".